FAQs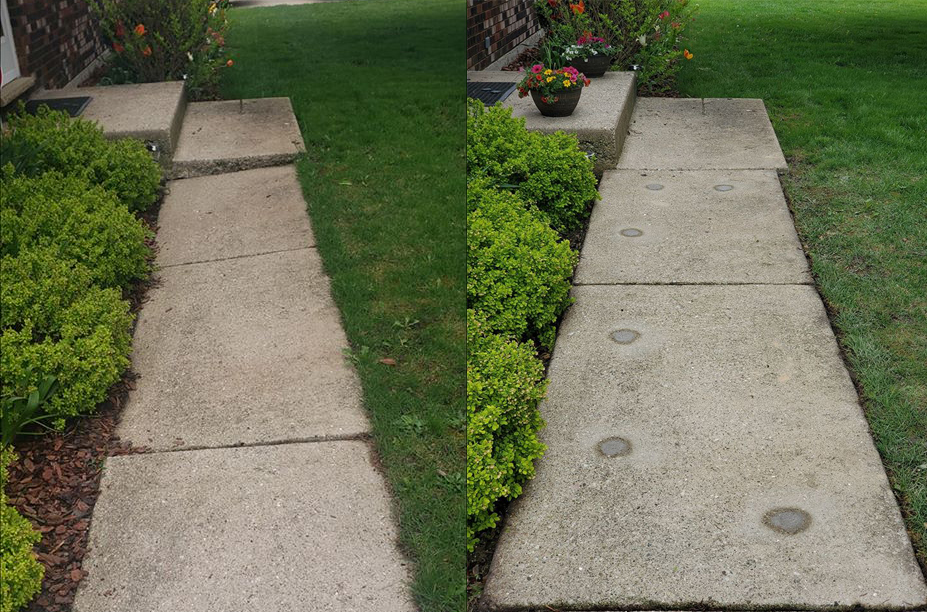 WHAT SIZE ARE THE LIFT HOLES?
The holes that are drilled are 1 1/2" and patched with a mortar.
ARE THE PATCHED HOLES NOTICEABLE?
The holes that are drilled to lift your concrete will be noticeable because we are putting a fresh patch on aged concrete. Over time, the patch holes will blend in with the existing concrete making them less noticeable.
WHAT ABOUT THE EXISTING CRACKS IN MY CONCRETE?
The cracks that are present in your concrete will still exist after the lifting process. Atlas Concrete does not provide crack repair, that would be up to the homeowner. Concrete caulk is the best product for filling cracks and can be purchased at your local home improvement stores.
HOW LONG BEFORE WE CAN USE THE AREA THAT WAS LIFTED?
Most of the areas can be used immediately, caution should be used not to disturb the small patch holes until they dry (approx. 24 hours). Garage floors and driveways should be left unused for 24 hours.
IS THERE A WARRANTY?
Yes, our work is guaranteed for 2 years.
WHAT ARE THE TERMS OF PAYMENT?
Payment is expected when the job is completed. However, if you are not at home when the work is done, payment is expected within 10 days from the date of the work.
HOW DO I ACCEPT THE PROPOSAL?
If you have reviewed your proposal and have decided to move ahead with the work, please sign the proposal then forward to us via mail, email or fax to (847) 573-9200.
HOW DO I SCHEDULE MY WORK?
You can call us immediately to be placed on our schedule or we will call you upon receiving your signed proposal.
IS A DEPOSIT REQUIRED?
No, payment is not required until the work is completed.
DO I NEED TO BE HOME WHEN THE WORK IS DONE?
No, as long as the work is all being done on the outside of your home. If interior work is schedule, then an adult must be present. PLEASE NOTE: We will need access to an exterior spigot for clean-up.
HOW LONG WILL THE WORK TAKE?
That depends upon the size of the job. Normally, residential jobs are completed on the day that they are scheduled. Weather can play a role at times.